Self-led learning
for smart cookies
NO BUZZWORDS / NO BULLSHIT
STRATEGY |
CHANGE |
LEADERSHIP |
PRODUCTIVITY
|
PLANNING
World-class learning - that works for you.
No boring instructors. No long webinars. No pointless group work.

If you're sick of mediocre training that feels irrelevant to your work, you're in the right place.
We cater for busy people who love to learn, but don't have the time and patience for
traditional professional development.

It's not for everyone... and we're OK with that.

...is this YOU?
Impatient
You get bored waiting for others to catch up and like to do things at your own pace - which is often faster than everyone else.
Independent
You like people, but they can frustrate you in a learning environment. You like doing things your own way.
Time-poor
Traditional courses and webinars never fit your busy schedule and you often have to learn on your own time.
Hard to impress
You're, frankly, unimpressed by most of what's out there. You often think you could do a better job yourself.
TESTIMONIALS
Check out what people are saying!
L'Oreal Learning Academy
Hear what L'Oreal has to say about
learning with Alicia McKay
Crown Law Office
New Zealand's brightest legal minds
love learning with Alicia - hear why.
What's different about the
AM Academy?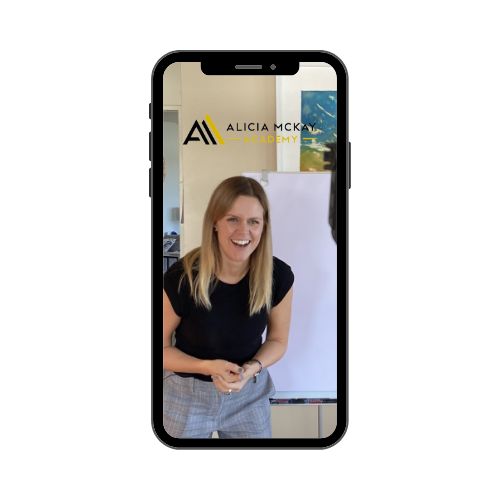 FAST AND FOCUSED

Alicia McKay doesn't waste time.
Every course is crafted to deliver maximum impact, in the minimum of time, with no boring filler content.



CUTTING EDGE CONTENT

No off-the-shelf slide packs here.
Access world-leading insight into strategy, change, leadership, organisational and personal productivity.



READ. WATCH. LEARN.
Choose your own learning adventure based on what suits you.
Video, text, audio, quizzes, templates and workbooks.

PERSONAL INSTRUCTION
Submit assignments and reflections for personalised feedback.
For INDIVIDUALS
All assignments graded and reviewed with personalised comments
FOR TEAMS
Share your learning and progress with others - online and in person
FOR ORGANISATIONS
Enterprise plans available to suit your needs and timeframes.
Most professional development sucks.
But yours doesn't have to.

Oh hello! It looks like you've been granted early access!
Talk about ahead of the pack.

We'll be adding new content, interactive quizzes and an on-the-go app so you can learn anywhere.

Sign up to get updates and special offers direct to your inbox - never miss out on a new course!